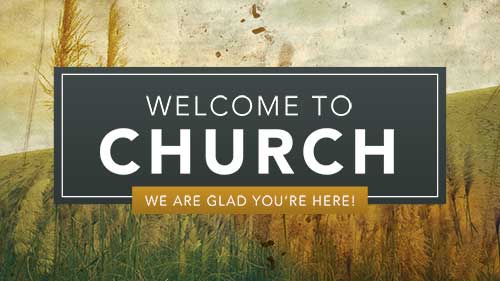 We know it's not easy visiting a new church for the first time. Sometimes you feel like an uninvited stranger showing up for dinner.
At Grace Bible Fellowship, we're always excited to welcome new visitors. We hope you'll join us. We want to make your visit as comfortable as possible. Here's what you can expect when you come to either our 10:00 Sunday School or 11:00 a.m. worship service.
We are located at 2600 N. Tamiami Trail in Nokomis, Florida and parking is located behind the church. If you have mobility restrictions or young children to carry, feel free to use one of the spots closest to the door. We like to keep them free for visitors and people who need assistance.
Please don't worry about what you'll wear to church, for we truly believe people should come to God as they are. You don't need to dress up to get his approval--that comes through Jesus' sacrifice. Once you walk in the doors, you'll see that the congregation has all types of people in all kinds of dress. While some people may wear ties, many others wear shorts and are just as welcome.
If you arrive early, you're welcome to join us for coffee and donuts or browse through our Bookstore and free library of books. When you walk in, you will find a church eager to meet you and give you a warm and friendly welcome. Please sign our guest book, located directly in front of the entrance, so we have a record of your visit. Whether you are in town for one week, or may return, we would like to pray for you and having your name makes that easier. If you have any questions about the service itself, bulletins are located next to the guest book and should provide helpful answers. Feel free to fellowship and ask questions to all you meet.
Between Sunday School and worship service (10:45 a.m.-11:00 a.m.) there is a time for fellowship, coffee, and snacks. You'll have a chance to meet our pastor and many other people in the church. We'd also love to get to know you so you're a familiar face the next time you come.
The pastor brings a message meant to be both "teaching" & "preaching". Our music is traditional and designed to be uplifting, encouraging, and honoring to our great God and savior Jesus Christ. Services typically end at noon or shortly thereafter and afterwards the Pastor looks forward to speaking with everyone he can before they leave.